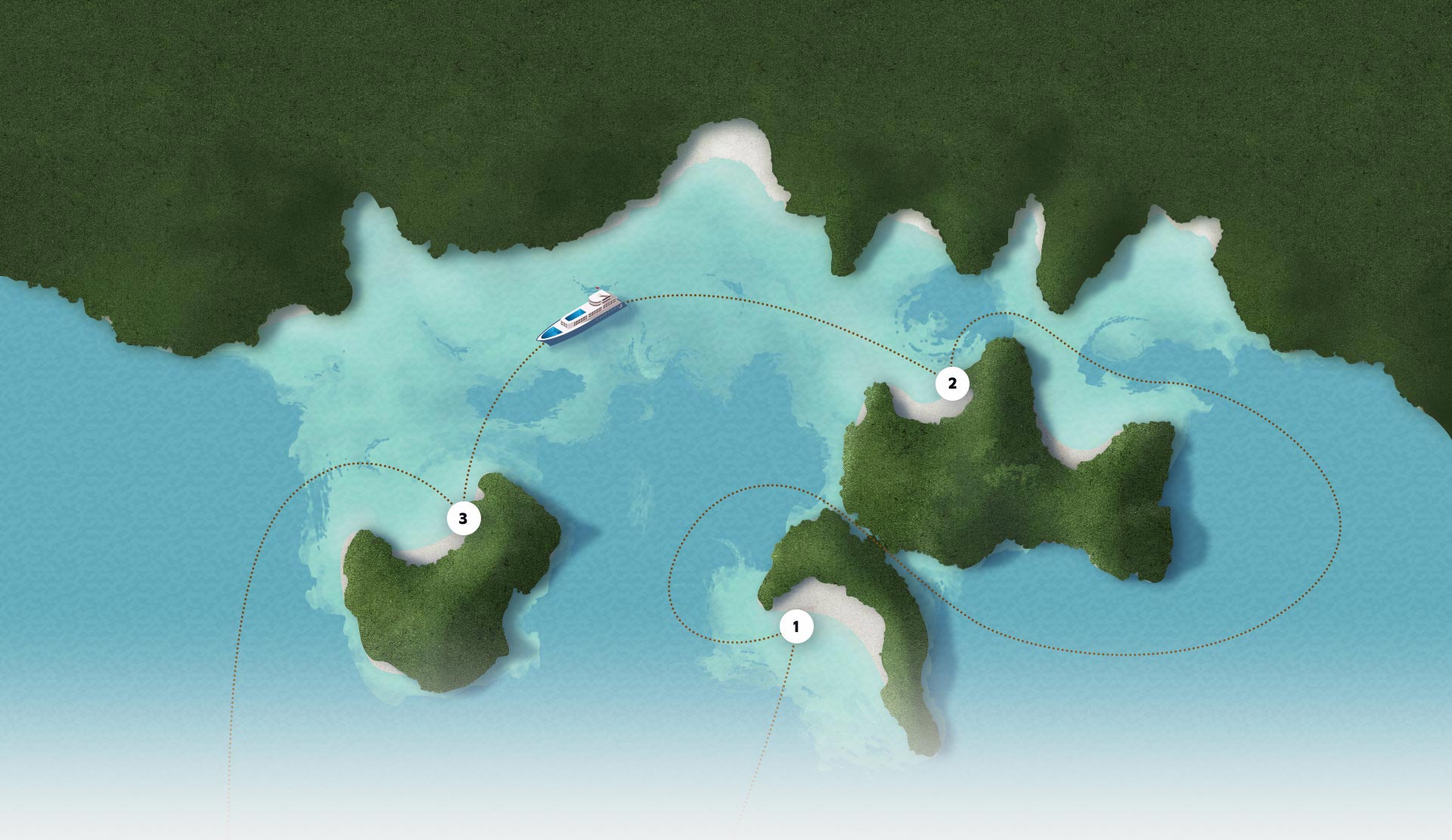 Aftermath Islands is a blockchain-based virtual reality interactive platform.

Aftermath Islands as first described in the initial whitepaper published in 2017 and then subsequently updated, was based on the premise of a water-world that had islands that represented destinations in a global virtual game. Since then, the Aftermath Islands metaverse has evolved and now represents exciting themed based islands, communities, and estates where players can experience a wide range of adventures and opportunities.

In Aftermath Islands' virtual world, users can buy, develop, trade, and sell Virtual Land (VL), property and assets, like buildings, crafted items, transport, and other items all through NFTs, a non-fungible token that represents the ownership of virtual and other assets. Each plot or parcel of VL is unique and owners get to choose what content they want to publish on their VL.
This can range from simple scenery and structures to an interactive game, store, warehouse, dwelling, facility, or destination. Users can purchase VL as well as all other goods and services in Aftermath Islands with CREDITS, the current code name for in-game currency, fiat and other authorized currencies, coins and tokens.

Aftermath Islands is a shared virtual world, much like the Metaverse described by author Ernest Cline in his science-fiction novels Ready Player One and Ready Player Two. Expected to launch mid-2022, Aftermath Islands will allow users to connect and interact with each other, create content, craft, participate in activities and quests and play games. Aftermath Islands will have a virtual economy where users can engage in a myriad of in-world economic transactions as well as monetize the content, items, quests, and applications they build.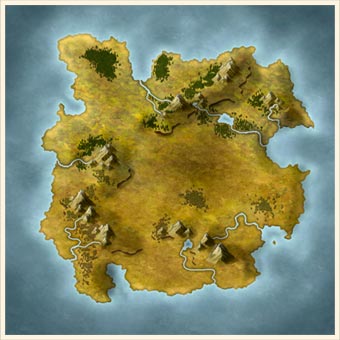 Aftermath Islands offers players a fun and exciting opportunity to acquire their very own Virtual Land (VL). Each type of Aftermath Island has its own properties, rules, and adventures. Own an island, be part of a community, a land baron, farmer, adventurer, creator, it's all up to you. Your virtual dream destination starts here!

Themed Islands – this is where the fun begins. Each themed island will be a gamer's delight where you can immerse yourself in the events, quests and gameplay designed around an individual theme like dragonlore, medieval fighting, alien warfare, dinosaurs, pirates, monsters and more. Some themed islands can host educational and entertainment events The list of possible themes is enormous. Best of all, you can own and control VL on each of the islands, if you're quick enough to get yours before their all gone!

Community Islands – for those that want to hang out, play with others, but still have a place to call your own, then a lot may be the right place for you. On Community Islands, players can be part of group activities, guilds, clubs, and other types of activities, or they can just go it alone.
Estate Islands – want to own a large part of a small island where only a few dozen players have ownership on the same island, then an estate is for you!

Your very own Island – for those that want it all, you can own your very own island and create your own environment for play. With 3 different sizes available, you can design and build your own empire. Only a limited number of individual islands will be made available, and each player owned island will allow Aftermath Islands certain privileges to ensure access and compliance to fair game play for all. For more information on acquiring your own island, please click here.

Kingdoms – available in the future, kingdoms will be linked groups of islands that have a major theme that supports more than a single island. This type of island group is perfect for brands, sports leagues, entertainment organizations and others.
Theme Islands - Phase 1
We're excited to present our first group of new Islands that will be available to players.

Each of Aftermath Island's large islands has a different theme, with 5 different one to start and more on the way. The first available themes are: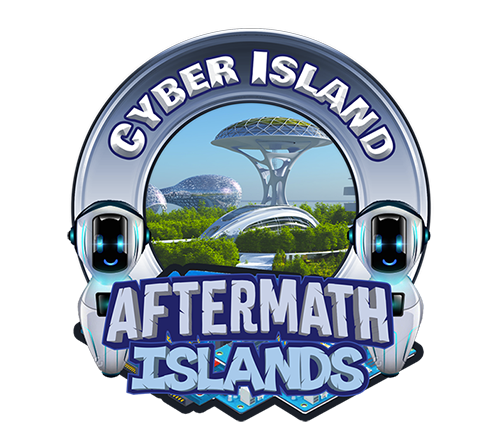 CYBER ISLAND
The future is yours to explore and create on Cyber Island. Help build the settlements of tomorrow and shape the world as you want it to be. Technology rules and you may be called upon to stop the rise of machines or use robots to build fantastic new inventions and settlements.

For more information on acquiring your own lot or larger parcels of Virtual Land on Cyber Island, please click here.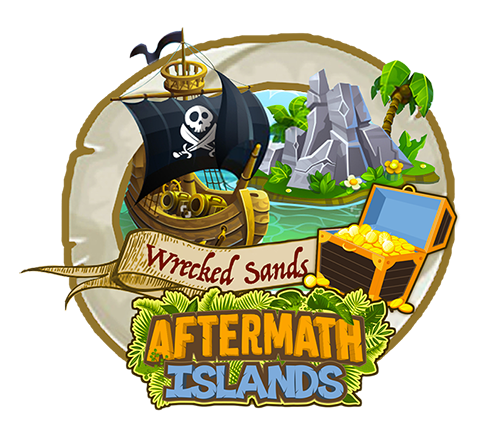 WRECKED SANDS
Arrrr me hearties! Welcome maties to Wrecked Sands where pirates rule the sea and the land. Here, you'll be able to search for buried treasure, maybe even on your own land! Join a crew and set out for great adventures or be part of a landlubber's settlement, it's all up to you.

For more information on acquiring your own lot or larger parcels of Virtual Land on Wrecked Sands, please click here.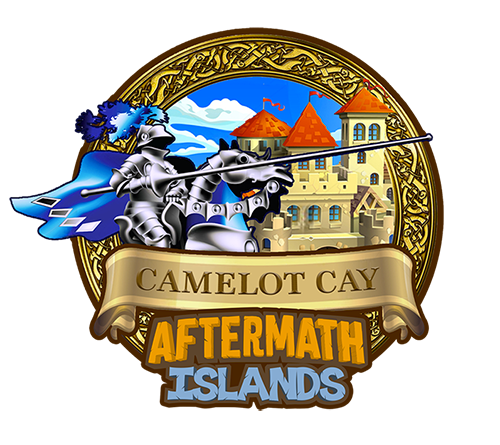 CAMELOT CAY
Tournaments, knights and maybe the occasional dragon await you on Camelot Cay. Join medieval villages, becoming a lord or lady, or ride the forests on the lookout out for great bounties. Fare thee well!

For more information on acquiring your own lot or larger parcels of Virtual Land on Camelot Cay, please click here.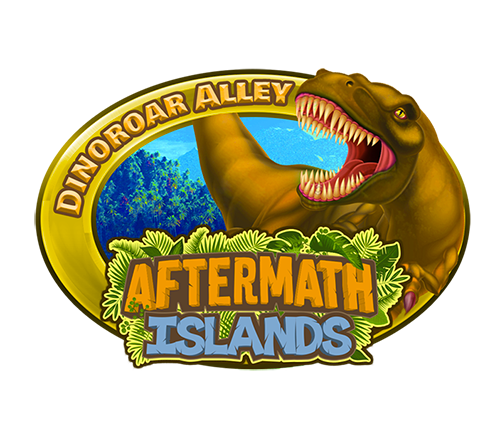 DINOROAR ALLEY
Journey back to a time when dinosaurs ruled the earth on Dinoroar Alley. Hunt mighty prey or become it! Help create communities and protect them from rampaging Jurassic beasts.

For more information on acquiring your own lot or larger parcels of Virtual Land on Dinoroar Alley, please click here.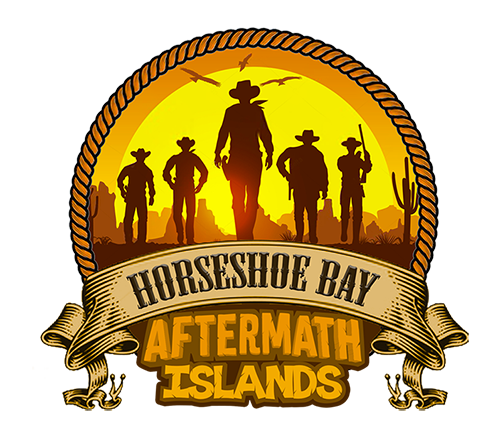 HORSESHOE BAY
Howdy, partner and welcome to Horseshoe Bay where the rule of law is a bit dusty. Mosey on over to where the west was won and horse stealin' and gunfightin' was just the way it was. You can be the sheriff of your own land or just a settler, you decide.

For more information on acquiring your own lot or larger parcels of Virtual Land on Horseshoe Bay, please click here.
Community Islands - Phase 1
Welcome to your very own virtual community where you can play, work and be who you want to be, in your own house or your friend's. Throw parties, be creative or just chill, it's all up to you!

For more information on acquiring your lot on a Community Island, please click here.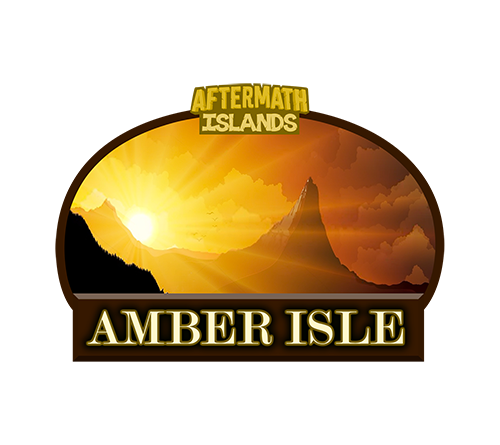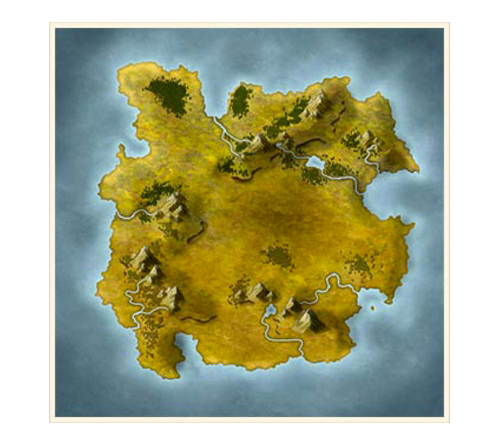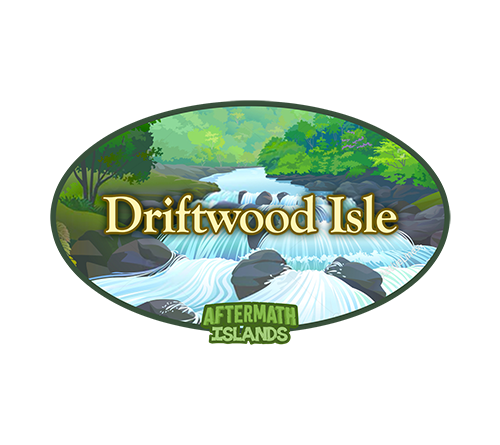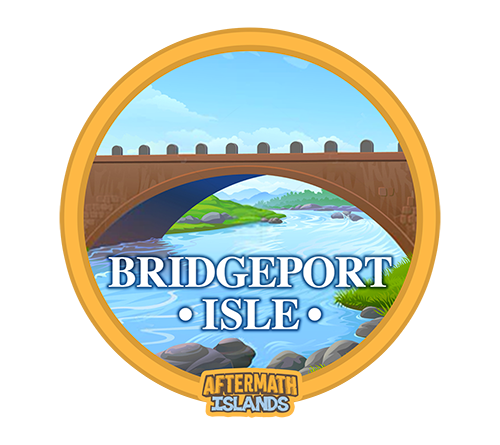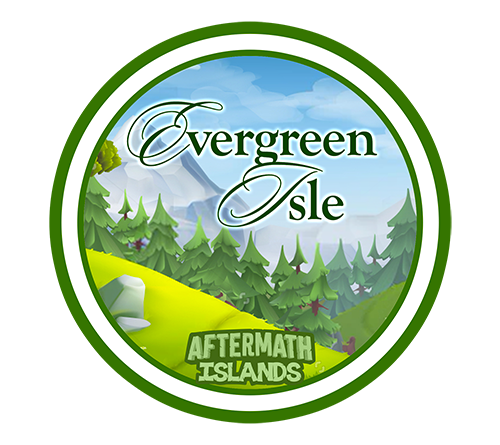 Estate Islands - Phase 1
Go big or go home with your very own estate on an exclusive island. Now's your chance to show them who you really are or will be! For more information on acquiring your own Estate, please click here.
Virtual Land
In Aftermath Islands, each large island and kingdom (coming soon) has a different theme. You can buy individual or group lots of Virtual Land (VL) where available. Every sale phase, starting with Phase 1 will have VL available by theme, as part of a community or as estates. There are a finite number of lots within the structure of each island and when they're gone, they're gone!

In some cases, and for specific brands and organizations, entire islands can be purchased.

VL can be purchased in single or multiple lots, where available. To purchase VL, please click here.

VL can be acquired through the purchase of NFTs (non-fungible tokens) allowing each user to place in their wallet a token representing the "deed" to their VL. Please see the About section for more information.

Landowners that purchase single lot or parcels of VL, consisting of multiple lots that they will be able to apply to subdivide the larger VL into single lots prior to or immediately following the launch of Aftermath Islands.

Limited VL will be available for each island with reserves for future sales and infrastructure development. VL for each phase, with phases expected to launch approximately every 30 to 45 days, will increase in cost until all the initial pre-launch VL is gone. Consider acquiring VL as soon as possible to build your empire!
Other Assets
In Aftermath Islands, players can acquire a wide range of items that can be used to build your empire. These include dwellings, fixtures, tools, wearables, and other items created by Aftermath Island and authorized creators.
Items and Crafting
Aftermath Islands offers players so much more than just the opportunity to acquire Virtual Land. Players will be able to acquire a range of items, including rare and legendary items to add to their inventory and future updates will include the ability to use foraged and acquired items to create other crafted items to keep, trade or sell.
Game and Account Currency
When you purchase VL and other items in Aftermath, they are tied to NFTs (non-fungible tokens) that represents both visually and through a smart contract, your ownership of those items.

As Aftermath Island prepares to launch and as the game goes live, all NFT holders will have the ability to trade / redeem their VL and any other pre-launch NFTs for in-game DEEDs and other "like" items.

CREDITS, the in-game currency of Aftermath Islands will be available in upcoming releases prior to launch. CREDITS is the digital asset token used to pay for goods and services in the Aftermath Islands metaverse. It is built on TERC (Tron Europe Reward Coin), on the TRON Blockchain and through the Binance Smart Chain, allowing tranference to Ethereum in accordance with the ERC20 standard for tokens. CREDITS can be bought and sold for fiat currency or other digital currencies.
Gameplay and Quests
In Aftermath Islands, your adventures await! Each themed island will have a wide range of gameplay options and quests to engage both novice and experienced players and allow them to level up and earn great rewards. Check back here often for update and sneak previews on planned quests.
AFTERMATH ISLAND SHOP
Coming Soon
Technology & Papers
Check back here for the updated technology and associated papers for Aftermath Island.
News and Events
Aftermath Island in the news…
OWN YOUR PIECE OF THE METAVERSE PARADISE!